THE QUICKEST, MOST POWERFUL WRANGLER EVER
You asked for more power. You asked for more torque. You asked for a Wrangler with a 6.4L HEMI® V8 engine. Introducing the new 2021 Jeep® Wrangler Rubicon 392. It provides legendary off-road capability with impressive power and torque.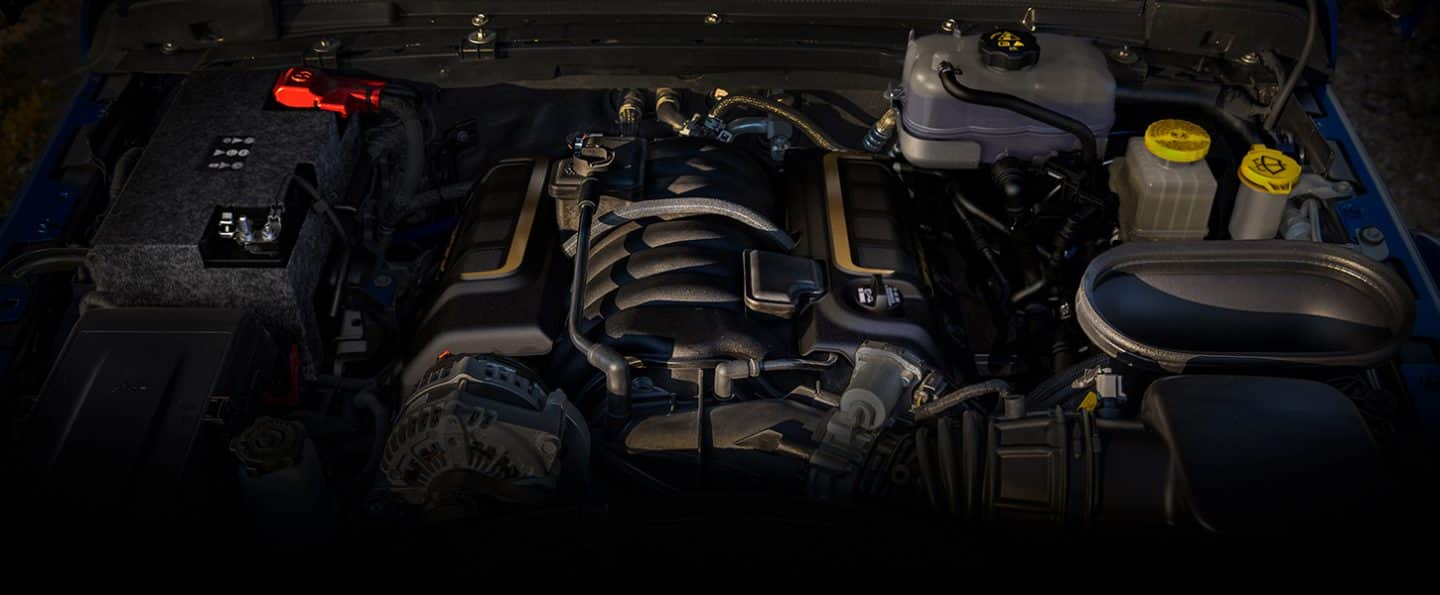 THE ONLY WRANGLER WITH A 6.4L HEMI® V8 ENGINE
The moment you push the engine start button and feel that 6.4L HEMI® V8 engine roar to life, you'll know that 470 horses of pure power is at your command, ready to push you through off-road trails or help you cruise through city streets. That's the moment you truly understand why we created the Wrangler Rubicon 392.
JEEP® WRANGLER RUBICON 392 DELIVERS
LEGENDARY OFF-ROAD CAPABILITY
The Trail Rated® Wrangler Rubicon 392 is the result of extensive durability testing. From Johnson Valley to the Rubicon Trail, this SUV has conquered some of the most punishing trails on earth. Now, you can take to the off-road with serious confidence thanks to the power of exceptional 4x4 capability.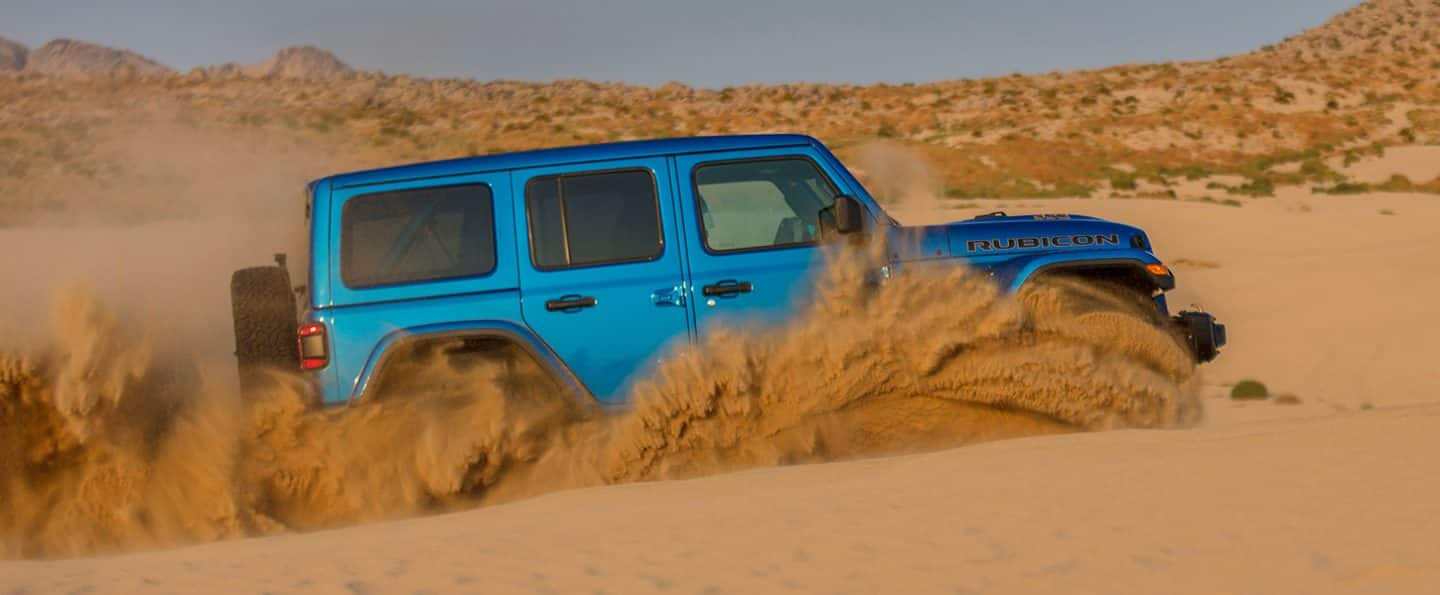 PURE ADRENALINE
Experience the rush of the Wrangler Rubicon 392. Its 470 horsepower engine powers through a quarter-mile in 13.0 seconds, going 0-60 mph in just 4.5 seconds. With that kind of performance, you'll take incredible speed to the sand and dunes. Plus, the heavy-duty braking system helps you maintain control or helps bring you to a safe and secure stop.
OUTSTANDING SUSPENSION TRAVEL
The Wrangler Rubicon 392 features an Electronic Sway Bar Disconnect which allows for massive articulation of the front tires and a Ramp Travel Index of 730, giving the Rubicon 392 superb off-road capability and suspension travel. Always drive within your ability and experience level and consistent with conditions.
INCREDIBLE MANEUVER­ABILITY
Engineered to harness its impressive power, the Wrangler Rubicon 392 offers dynamic maneuverability while traveling at higher speeds. Plus, branded FOX aluminum-bodied 2-inch diameter shocks enhance performance, using race-proven dampening control to provide a comfortable on-road ride and steady handling even in the toughest off-road conditions.
STUNNING FROM ALL DIRECTIONS
The most powerful Wrangler ever deserves an equally powerful look. 17-inch beadlock-capable wheels with 33-inch mud-terrain tires, a dual exhaust with quad tailpipes and bronze accents on the wheels and tow hooks give Wrangler Rubicon 392 an aggressive appearance from every angle.
17-Inch Beadlock-Capable Wheels and 33-Inch Mud-Terrain Tires
33-inch mud-terrain tires wrap around custom 17-inch beadlock-capable wheels for an impressive mix of style and performance. Plus, take full advantage of beadlock capability by attaching the available functional beadlock ring. Together, they offer outstanding strength, holding your tires to the rims under extreme lateral loads.
Hydro-Guide Air Induction System
The functional hood with Hydro-Guide Induction System enhances engine performance. Cooler air helps lower engine temperature and the system helps separate water from the intake while traveling in wet conditions.
HEAR THAT HEMI® V8 ENGINE ROAR
Dual-Mode Exhaust
For the first time, Wrangler features a dual exhaust. With the simple push of a button, you can engage the Dual-Mode Exhaust System to toggle between quiet and performance exhaust modes. Quiet mode lets you moderate exhaust sound, while performance mode opens the electronically controlled valves, enhancing the exhaust sound from the 6.4L HEMI® V8 engine. Plus, this system will automatically set your Wranger Rubicon 392 into performance mode while carrying heavy loads or running at high RPM, helping minimize back pressure and maximizing horsepower.
Available Half Doors
Back for the first time since 2018, off-roading enthusiasts will love the adventurous look of half doors on the Wrangler Rubicon 392. They'll help you stay protected from the elements while getting close to nature.
ELEVATED INTERIOR
Premium seat bolsters, embroidered black leather-trimmed seats, custom bronze stitching, steering wheel-mounted paddle shifters, a premium audio system and the Uconnect® 4C NAV with its 8.4-inch touchscreen are just a few of the interior features that give the Wrangler Rubicon 392 a refined touch.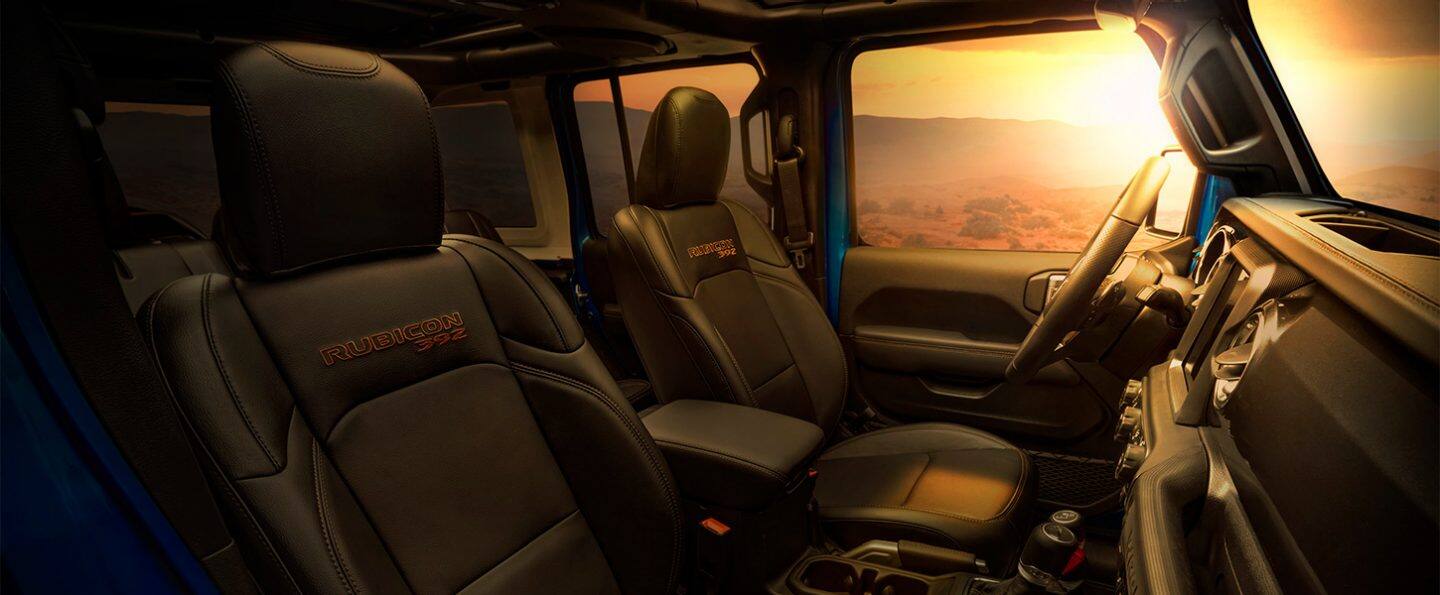 FIRST-CLASS SEATING
Premium Seat Bolsters
Stay supported through every twist and turn with premium seat bolsters that hug your body on even the most windy trail. Plus, enjoy the look and feel of black leather-trimmed seats with bronze interior stitching and a custom embroidered "392" logo.
SHIFT INTO GEAR
Steering Wheel-Mounted Paddle Shifters
For the first time ever on Wrangler, the Wrangler Rubicon 392 gives you full control of the gears while you keep both hands on the wheel using steering wheel-mounted paddle shifters. Get ready to experience on-road steering while traversing off-road trails.
STAY ALWAYS CONNECTED
Uconnect® 4C NAV and Alpine® Premium Audio System
The advanced Uconnect® 4C NAV with its 8.4-inch touchscreen helps guide you where you need to go, while the Alpine® Premium Audio System helps ensure you enjoy every second of the ride. Plus, you can use Jeep® Off-Road Pages and the available forward-facing TrailCam Off-Road Camera to help guide you through tough terrain. Together, they provide vital information about your trip and a clear view of what's ahead.
ON DISPLAY
7-Inch Full-Color Instrument Cluster
The 7-inch Driver Information Digital Cluster Display gives you all the info you need, exactly when you need it. Customize the display to help you keep track of key stats like speed, Navigation, speed control and security features.
THE WRANGLER RUBICON 392 GALLERY