JEEP® TRAILHAWK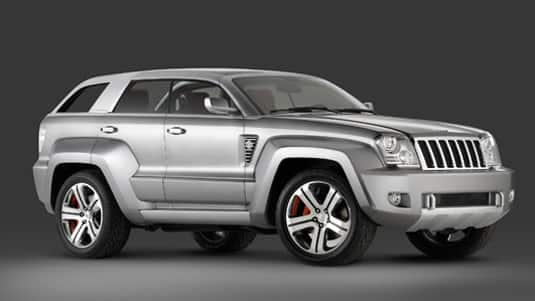 Open-Air Meets the Open Road
The Jeep® Trailhawk concept merges the spectrum of the Jeep brand by combining the core off-road features of the new body-on-frame four-door Jeep Wrangler Unlimited with the refined sophistication of an all-new on-road open-air concept vehicle, providing a unique and fresh expression for Jeep. Built off the new Wrangler platform, the Jeep Trailhawk is a more refined highway cruiser without sacrificing any of Jeep Brand's legendary off-road capabilities.
"The key to the look of the Trailhawk," said Nick Vardis, Principal Exterior Designer, "is the vehicle's distinctive proportions, due in part to its 116-inch wheelbase. The dash-to-front-axle dimension is dramatically long, giving the vehicle a sense of forward motion, while the front and rear overhangs are tight and abbreviated."
Vardis said the body side is muscular and broad-shouldered, with the sheet metal pulled into shape, much like a drawn arrow in the bow of a skilled archer. Even the pillars are pulled back. The forward motion of the body is further accented by the drive of the raising beltline.
The stance is broad, and the wheels, pushed to the corners of the vehicle, are enclosed in robust flares dramatically offset from the body. Partly trapezoidal in shape, yet not asymmetrical, these angular, crisply-contoured wheel flares reinterpret one of Jeep Brand's fundamental design cues.
The side windows retract fully into the body, leaving no B-pillar above the belt, while the diagonal quarter windows are also fully retractable. Gray-tinted twin longitudinal glass panels over the first- and second-row seats and the glass panel over the cargo compartment are removable, as is the swing-up backlight. With all the glass lowered and removed, the Trailhawk offers occupants virtually the same open-air ambience as a typical soft top Jeep Wrangler. The fixed central spine contains overhead lighting and several integrated storage bins.
"The Jeep Trailhawk interior emphasizes the vehicle's open air-freedom, inviting elements of the exterior theme into the interior," said Cliff Wilkins, responsible for the interior design. "Tough mechanical elements which evoke exterior details are contrasted with sophisticated materials and finishes to give a modern, rugged, purposeful interior while delivering a premium off-road experience."
"One of the most remarkable things about the interior is that it was designed and surfaced entirely electronically — there were no traditional sketches or 3-D models. Even so, the interior turned out just as we had envisioned."
NEXT CONCEPT VEHICLE