WORRY-FREE MAINTENANCE FOR YOUR PEACE OF MIND
---
You will be automatically enrolled into the Jeep Wave® program with the purchase or lease of any 2021 Jeep® Brand vehicle. This premium customer care program is valid for 36 months from date of ownership and provides you with no additional cost worry-free maintenance and dedicated 24/7 support along with additional perks and benefits. It is the Most Valuable Customer Care Program in America.
Green Vehicle of Texas as voted by the Texas Auto Writers Association
Hybrid Technology Solution of the Year at the AutoTech Breakthrough Awards
THE FUTURE IS NOW
Get a closer look at the Wrangler 4xe inside and out—and get ready to plug in to serious adventure.
POWER THROUGH
Climb over tough obstacles and go an electrifying 0-60 mph in 6 seconds. A plug-in hybrid turbocharged engine gives the Wrangler 4xe an impressive 375 horsepower and 470 pound-feet of instant torque for heart-pounding performance off-road and on-road.
CHARGING MADE SIMPLE
Up to six times faster than the Level I charger, the available Jeep® Brand Level II PHEV Home Charging Station lets you spend less time charging your PHEV and more time on the road. The easy-to-use quick-release mount features a lockable, weatherproof enclosure for either indoor or outdoor installation. Plus, built-in Wi-Fi connectivity lets you control charging anytime, anywhere via a mobile app and web portal. Its smart grid optimization helps reduce energy costs by charging at low-rate times. Available state and government programs incentivize owning PHEV vehicles, helping lower the cost of owning and driving your PHEV.
PROFESSIONAL INSTALLATION MADE EASY
We've partnered with Qmerit to make home installation of a Level II charger simple. For most home configurations, all you need to do is give some information about your home layout and electrical panel. The free estimate will take only 5-10 minutes and you can decide whether to move forward at your convenience.
CONVENIENT INSTALLATION
Quickly receive an estimate and schedule your installation at a time that works for you.
VETTED PROS
A background-checked, licensed professional will complete the job.
HAPPINESS GUARANTEE
Over 10,000 quality EV charging installations performed.
SAY GOODBYE TO RANGE ANXIETY
Venture into the outdoors. Electric power gives you the freedom to go new distances without the range anxiety.
Whether you want to take off-road adventure to new places or simply get around town on all-electric power, the Wrangler 4xe is ready with an EPA estimated 49 MPGe rating. E-Selec driving modes that utilize Power Routing enable you to optimize performance while eliminating range anxiety.
---
EPA ESTIMATED TOTAL DRIVING RANGE
370
MILES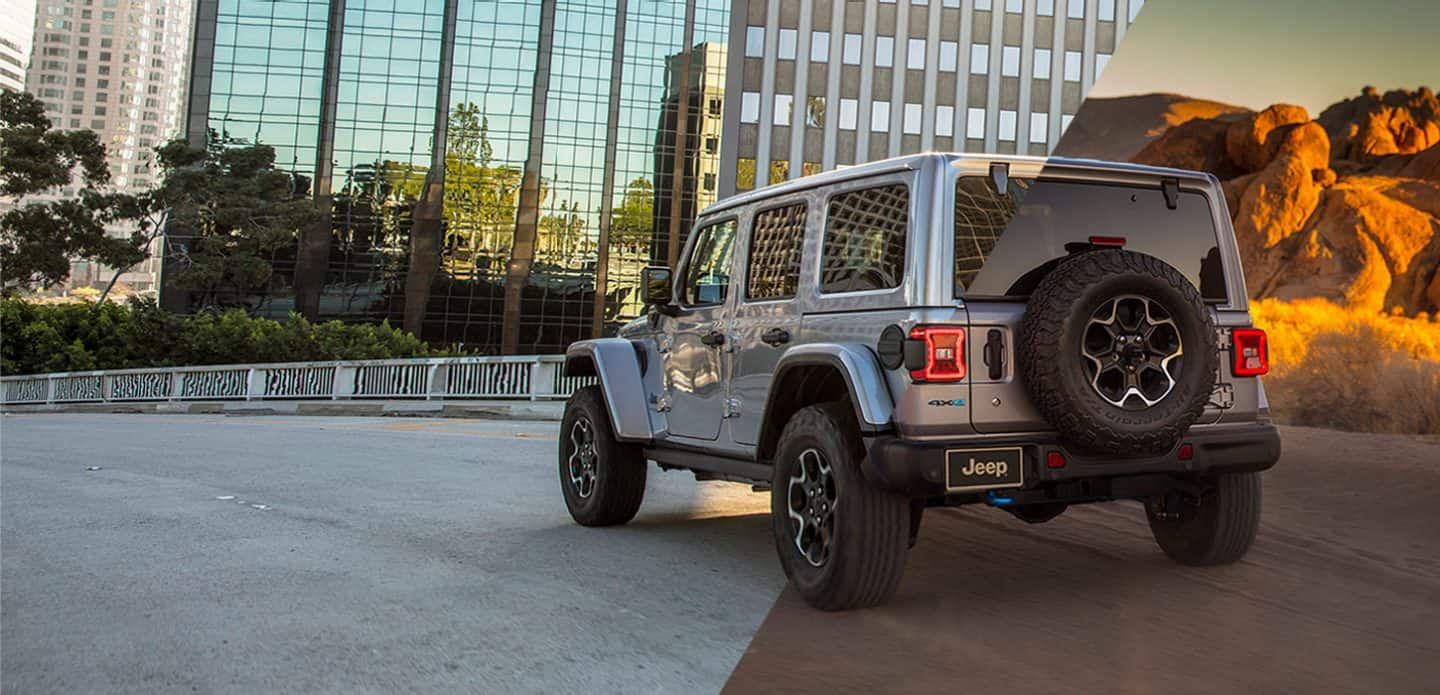 THE TECH THAT MAKES IT HAPPEN
As the Most Technologically Advanced Wrangler Ever, the Wrangler 4xe utilizes electric power without compromising the adventurous spirit the Jeep® Brand is known for.
HYBRID MODE
The default mode, Hybrid, combines torque from both the 2.0L turbocharged engine and the electric motors. This combination provides maximum horsepower, instant torque and the best acceleration. Electric power is consumed first.
ELECTRIC MODE
When the battery has more than a 1% charge, it can run in Electric Mode. This allows for nearly zero tailpipe emissions up to highway speeds. The vehicle can run in this mode for up to 21 miles.
ESAVE MODE
eSave Mode prioritizes the 2.0L engine. This saves the battery charge for later use. When power demand is low, the engine shuts off. It can also be reconfigured to increase the battery charge as well.
REGENERATIVE BRAKING
This feature allows the battery to be charged when decelerating and braking. The Max Regeneration feature remaps the accelerator pedal to command more aggressive regen at low pedal positions. It allows you to slow the vehicle down without the brake pedal, but a complete stop always requires the brake pedal. It also stays selected until you turn it off.
RECHARGE
The battery can be fully recharged in approximately 2 hours using an available Level II charger (240V), or 12 hours using the included Level I charger (120V). With the ability to charge at home and work, you can enjoy the benefits of fully electric daily commutes.
STATE AND LOCAL INCENTIVES
---
In addition to the $7,500 federal tax credit, you may be able to take advantage of state and local incentives as well.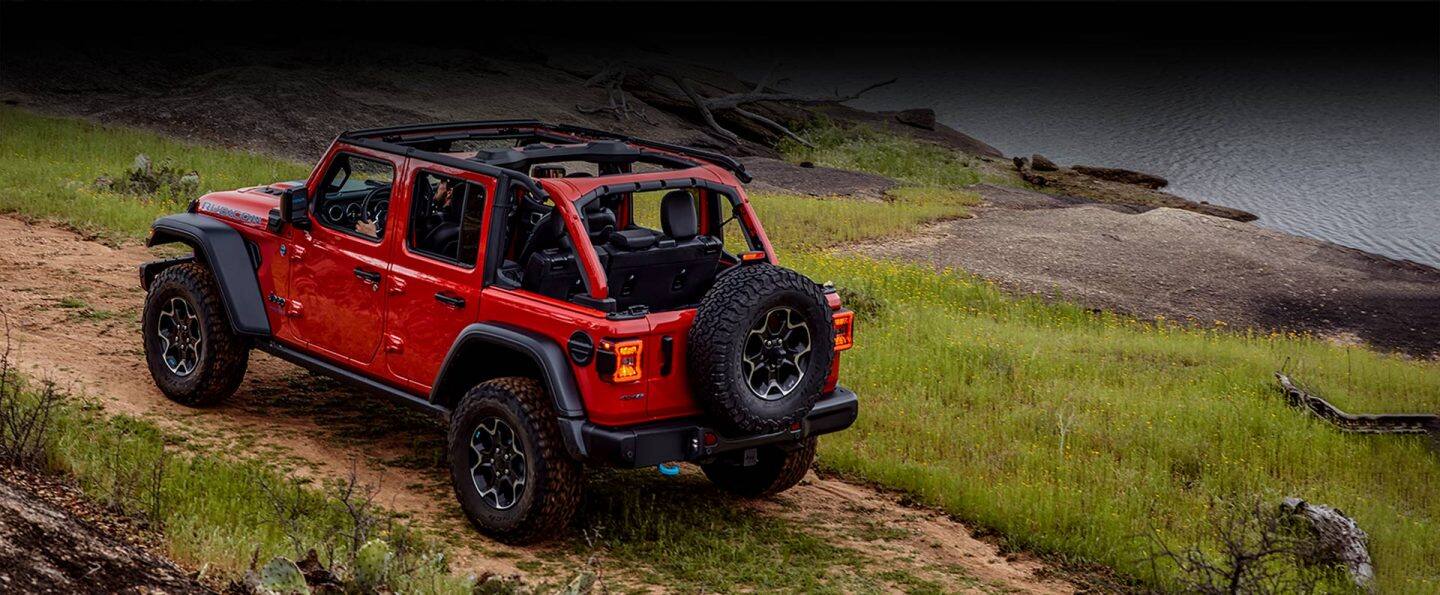 Quiet electric power means you can truly take in the natural sights and sounds around you. But your 4xe is unique and you may hear some unfamiliar sounds. Sounds like the whoosh of the Pedestrian Alert System when driving below 20 mph, the high voltage contactors clicking when you start up and shut down as well as the Electric Air Conditioning compressor.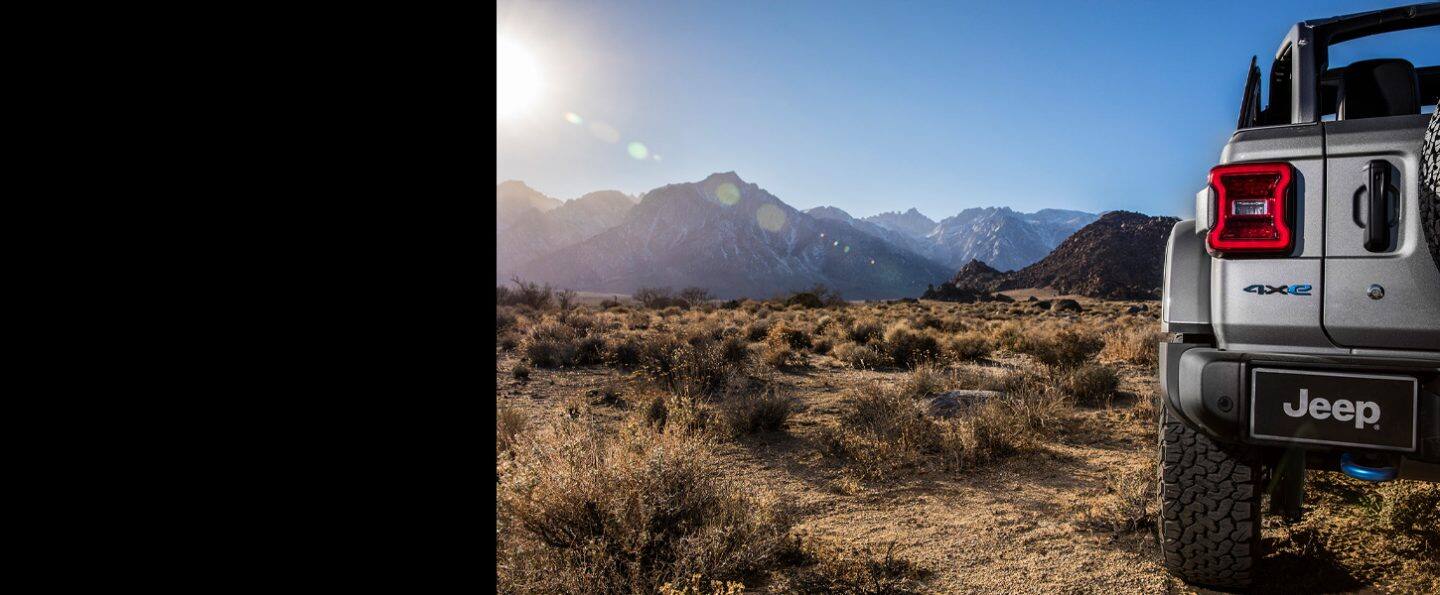 Looking to immerse yourself in the Wrangler 4xe before buying? This tool utilizes helpful features like zoom, rotate and x-ray vision to give you a full view of the vehicle.

GET THE DETAILS
Your questions, answered. Learn more about the Jeep® Wrangler 4xe and how it opens up a new future of fun.